For this week, my featured postcard for Postcard Perfect is from sis Dhemz of World Exploration. It is among the first batch of postcards I received since I started collecting postcards.
She sent me this lovely San Antonio Riverwalk postcard and looking at it makes me wish that we can also visit the place someday.
The San Antonio River Walk (also known as Paseo del Río) is a network of walkways along the banks of the San Antonio River, one story beneath downtown San Antonio, Texas. Lined by bars, shops and restaurants, the River Walk is an important part of the city's urban fabric and a tourist attraction in its own right.
Today, the River Walk is an enormously successful special-case pedestrian street, one level down from the automobile street. The River Walk winds and loops under bridges as two parallel sidewalks lined with restaurants and shops, connecting the major tourist draws from the Alamo to Rivercenter mall, to the Arneson River Theatre, to Marriage Island, to La Villita, to HemisFair Park, to the Tower Life Building, to the San Antonio Museum of Art, and the Pearl Brewery. During the annual springtime Fiesta San Antonio, the River Parade features flowery floats that "float" down the river. (source)

Thanks again, sis Dhemz ! The Riverwalk looks magical, I'm sure it is a great place for families to visit.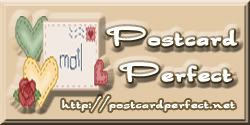 Postcard Perfect is a weekly meme hosted by Mommy Willa.