A mommy blogger and postcard enthusiast, Sigrid Lo of Dream World Traveler, celebrated her birthday a month ago and she sent postcards to other mommy bloggers like me.
She sent this beautiful multi-view postcard of her dream destinations: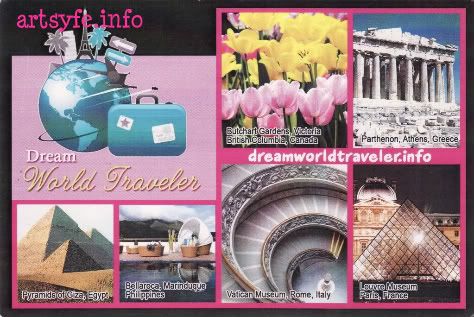 Some of her dream destinations are :
1.) Pyramids of Giza -  Egypt
2.) Bellaroca – Marinduque Philippines
3.) Butchart Gardens – Victoria British Columbia, Canada
4.) Parthenon – Athens, Greece
5.) Vatican Museum – Rome, Italy
6.) Louvre Museum – Paris, France
I hope you had a great birthday, sis and I do hope you'll get to visit your dream destinations soon. And thank you for the postcard !
Related Posts via Categories