Have you always wanted to try those amazing skateboarding tricks that you see professionals do but are afraid of getting all those bruises and injuries that go with learning a trick? Well, you can still perform amazing tricks using a fingerboard instead.
What is a fingerboard? Here's what Wiki has to say : A fingerboard is a working replica of a skateboard that a person "rides" by replicating skateboarding maneuvers with their hand. It can also be referred to as a finger skate board. The device itself is a scaled-down skateboard complete with moving wheels, graphics and trucks.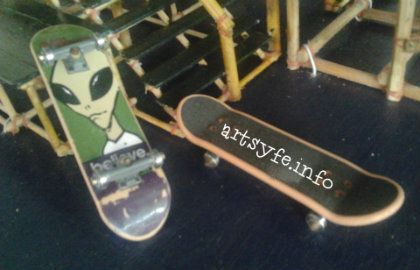 And just like in skateboarding, you would need a skate park where you can practice all those neat skateboarding tricks.
What we have here is a fingerboard skate park made out of popsicle sticks and barbecue sticks :