Historically known as Strastnaya Square, Phuskin Square or Pushkinskaya Square (renamed in 1937), is located at the junction of the Boulevard Ring and Tverskaya Street, 2 kilometers northwest of the Kremlin. It was named after Alexander Sergeyevich Pushkin, a Russian author of the Romantic era, who is considered by many to be the greatest Russian poet and the founder of modern Russian literature.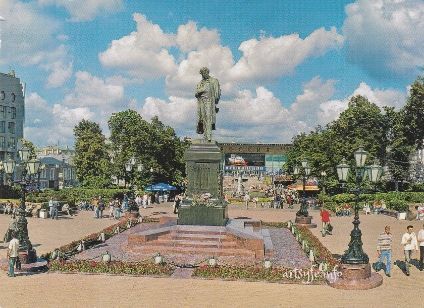 I came across an article online (published a few months ago) which states that the plans for an underground shopping mall which was initiated a couple of years ago by its former mayor has been scrapped by the current local administration. The exact reason wasn't specified on the article but I guess one of the things that they want to avoid is the disruption that the construction may cause especially since Pushkin Square is not only one of the busiest city squares in Moscow but also in the world. A major construction project will surely be an inconvenience to the public. Had it pushed through, those handling the project would have to plan for it carefully including how they will be able to store all their construction equipment, parts, ReidSupply screws, and construction materials safely and securely. The safety of the crew and the public is a major concern for a construction project regardless of how small or massive it may be.
*Postcrossing Postcard # 70 from Ksenia of Moscow.