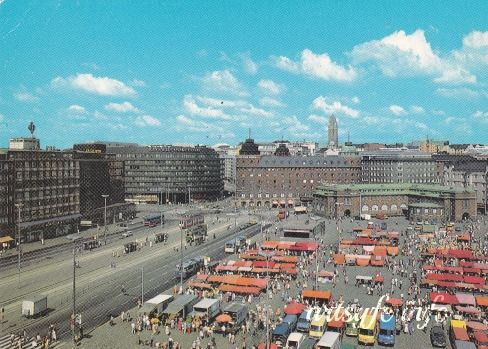 The open-air markets of Helsinki, Finland are famous not just among local residents but also among tourists who are looking for  fun places to shop and dine. The Hakaniemi Market Hall has approximately 70 shops that sell a wide variety of food items, hot deals and local products such as souvenirs and handicrafts. Specialty shops can also be found including a 2nd hand bookstore, textile store and a shoe repair shop. Those who are looking to treat themselves to an inexpensive traditional  Finnish lunch or have a taste of other famous local dishes can do so by dining at any of the six spacious cafeterias.
Whether you want to shop to your heart's content, have a taste of the famous local dishes or sit in a cafe as you enjoy a steaming hot coffee, the Hakaniemi Market Hall and Square is certainly a destination that you shouldn't miss.
*Postcrosssing postcard # 77 from Rontti of Turku, Finland.