Church architecture has always been an interest for us. From the most impressive and intricate designs that basilicas and cathedrals have to the simple but elegant churches and chapels, we have always been inspired by them.
For this craft project, we wanted to make miniature churches and the main material we used was illustration board. We first chose a design we like then we drew them on the illustration board to make a cut out pattern.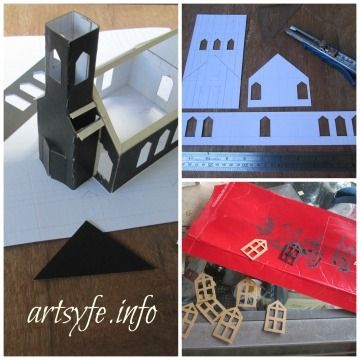 We also painted them before we glued them together. We made cut outs of the windows separately and painted them as well.
We then glued them together (a glue gun would come in handy for this one), and this is what we came up with. (Notice the miniature trees that we placed on the side of the main door? They are mainly made out of egg shells. Well do a separate post for that.)
We also placed a battery operated light (red for this one) inside to give it a more dramatic effect, making it look serene. It makes one feel like a private and serene ceremony is going on inside; like a wedding complete with all the wedding entourage, a gorgeous bride wearing a stunning gown, and an impressive wedding ring (that will replace the simple but unique promise rings here that the couple has been wearing).
Anyway, we hope that you find our new creations interesting and we hope that you keep a lookout for all our other new art/crafts projects. We have mad quite a number of tree houses in various designs so watch out for that.
Stay creative!