In celebration of the 50th Anniversary of Goethe-Institut Philippinen, the Philippine Postal Corporation has released a set of stamps classified as a 'commemorative' kind of issue with a denomination of P7.00 and a quantity of 172,000 pieces. The German Cultural Center in the Philippines' anniversary coincided with the celebration of the 150th birth anniversary of Jose Rizal.
The set is composed of four stamps with designs that pay homage to the legacy of Jose Rizal and acknowledge the German-Philippines relations to which Rizal has made lasting contributions.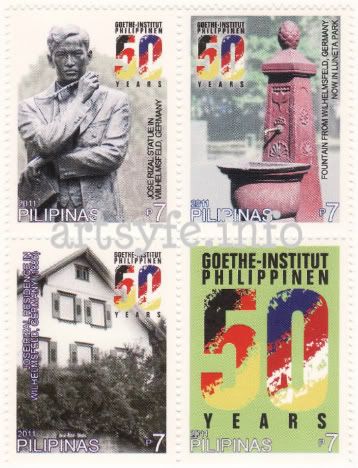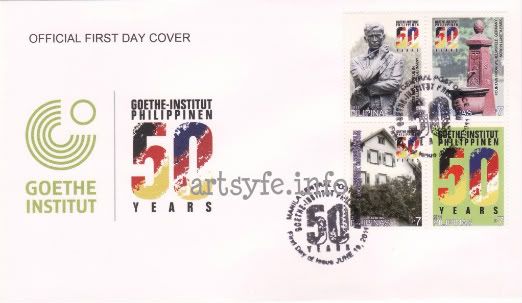 The first stamp features a Jose Rizal statue in Wilhelmsfeld, Germany. The second features a fountain from Wilhelmsfeld, Germany. The fountain, the same one from Jose Rizal used to drink from when he was in Germany, has been donated to the Philippines and is now part of the Noli Me Tangere Gardens at the Rizal Park. The third stamp is of the Jose Rizal residence in Germany and the street named after him – Jose Rizal StraBe. The fourth stamp features the colors of the Philippines and German flags. It symbolizes the profound and continuing friendship between the two countries.
The Goethe-Institut Philippinen 50th Anniversary Commemorative Stamps were launched last June 19. 2011.