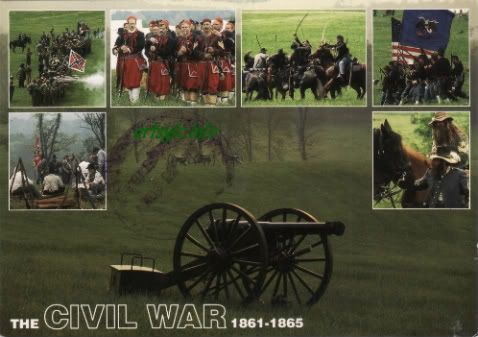 The American Civil War (1861–1865) was a civil war that took place in United States of America. In response to the election of Abraham Lincoln as President of the United States, eleven southern slave states declared their secession from the United States and formed the Confederate States of America ("the Confederacy"); the other twenty-five states supported the federal government ("the Union"). After four years of warfare, mostly within the Southern states, the Confederacy surrendered and slavery was outlawed everywhere in the nation. Issues that led to war were partially resolved in the Reconstruction Era that followed, though others remained unresolved. (source)
Here's an interesting piece of information written at the back of the postcard :
Eleven separate motions were needed to fire a Civil War musket. The 1860's regulation specified that a soldier should fire three armed shots per minute, allowing twenty seconds per shot and less than two seconds per motion. It is estimated that between 8,000 and 10,000 bullets were fired for every man killed or wounded at the First Battle of Manassas.
Thanks, Lou and Steve for yet another interesting postcard !
Related Posts via Categories