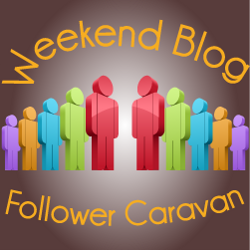 Welcome to another round of Weekend Blog Follower Caravan. For a blog that is fairly new, like this blog, it is an excellent way to gain more GFC followers, meet fellow participants, and follow their blogs as well.
This week is extra exciting because our dear host is giving $5 each to two lucky participants. And from among the participants for the whole month of July, one winner will be drawn and will be awarded with $20 Paypal cash plus banner ad at the sidebar.
So, what are you waiting for ? Join WBFC, meet wonderful bloggers and get the chance to win some Paypal cash in the process.
Weekend Blog Follower Caravan is a simple online blogger-helping-blogger weekly meme. It was designed for bloggers to help each other in terms of blog followers either through Google Friend Connect and email subscribers.
Related Posts via Categories